20% off all Swann Morton products
Swann Morton products offer precision, consistency and reliability when it is needed most. Our range of Swann Morton blades and handles are perfect for trimming sign making materials and substrates, as well as finishing digital media products and reflective vehicle livery.
Don't miss these quality products on our star buy this month - with 20% off the whole range!
---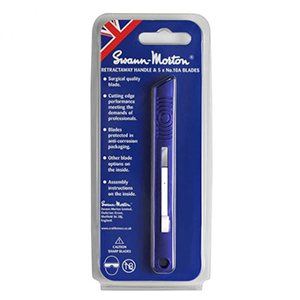 Swann Morton Retract Away Knife
The Premium Retractaway offers the added safety of a handy retractable blade mechanism. It is a highly versatile cutting tool with easy blade changing - it fits and safely retracts surgical blade Nos. 10, 10A, 11, 15 and 15A.
---

Swann Morton Scalpel Handles from only £2.43
Save today on Swann Morton No.3 and No.4 scalpel handles. These durable scalpel handles have a measure on the reverse for quick reference and are compatible with a lrage range of Swann Morton scalpel blades.
---

Box of 100 Swann Morton Scalpel Blades now only £8.51
10a and 11 scalpel blades are available in boxes of 100, split into 20 packs of 5 scalpel blades.

The 10A is a straight edged blade with a strong tip and fits handles 3, 3L, 3 Graduated, 5B, 7, 9 and B3.

The No.11 is an elongated triangular blade sharpened along the hypotenuse edge with a strong pointed tip. The No.11 blades fit handles 3, 3L, 3 Graduated, 5B, 7, 9 and B3
---
Need a little more info?
If you'd like to know a little more about Swann Morton products, give our friendly team a call today on 01246 570570
---