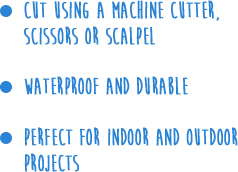 Central UK Location
Daily deliveries throughout
the UK and Europe

Description
Our waterproof craft vinyl comes in a large colour range and can be cut using a machine cutter, scissors or a scalpel. With 47 colours, including gold and silver, let your imagination run wild and create any number of self-adhesive items!
Victory craft vinyl can be cut and stuck to many different surfaces, whether indoor or outdoor, making it ideal for wall decals, plastic containers, glass items, drinks bottles, garden containers and much more. It has a permanent adhesive and has a durability of up to 5 years.
Craft vinyl is also suitable for a range of home DIY projects, such as changing the colour of your kitchen doors or personalising your wheelie bin. It applies easily around simple curved surfaces and has a grid printed onto the liner paper to help with manual cutting and alignment.
With so many colours to choose from and a choice of matt or gloss, we're sure you'll find exactly what you need for your project in Victory craft vinyl.