Free ancillary pack with Avery digital bundle
Our Avery MPI 3004 HOP Easy Apply & Avery Dol 3460 laminate bundle pack (1370mm) offers a very high opacity, short term product which has brilliant over posting capabilities and is suitable for indoor and outdoor use. It also uses Avery Dennison's unique Easy Apply technology which allows for fast, easy bubble free application on a range of flat surfaces including windows. When buying this bundle pack, you make a fantastic saving of £58, compared to buying the products separately.
For a limited time, we're also offering a FREE ancillary pack worth over £25 with every order of the Avery MPI 3004 bundle pack, with some really handy and essential tools for successful application of your digital media.
CLICK HERE to buy online or call 01246 570570 to speak to a member of our helpful team.

FREE ANCILLARY PACK WORTH OVER £25
1 pair of speed magnets, 2 x Avery blue low friction squeegees with felt, 2 x plastic applicators and 2 x snap off knives
Click here to buy the digital bundle online and for your free ancillary pack
Offer available until 31st July 2020
More about the Avery MPI 3004 HOP Easy Apply bundle pack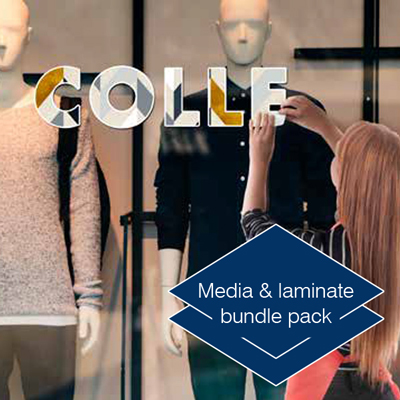 AVERY MPI3004 HOP EASY APPLY GLOSS AND DOL3460 LAMINATE
This gloss white vinyl digital bundle provides fantastic print results and applies really quickly and easily, thanks to the Easy Apply technology from Avery Dennison. The bundle pack contains one full roll (1370mm x 50m) of Avery MPI 3004 HOP gloss white and one full roll of Avery Dol 3460 gloss laminate.


This bundle pack offers:
Very high opacity film - allows quick and effective coverage of previous signage and promotions

Easy Apply technology from Avery Dennison

Excellent printability and handling on selected printers

Superior whiteness

Easy cutting and application on a wide variety of substrates

Suitability for indoor and outdoor graphics
Click here to buy the Avery MPI3004 HOP Easy Apply and DOL3460 laminate bundle and to receive your free ancillary pack.