Star Buys - save on garment film, banner tape and ECE104 reflective tape
We have some new star buys which offer savings of up to 35% from products across our garment marking and banner product ranges. There's also a NEW LOWER PRICE on 3M and Avery ECE104 tape.
Grab your bargain today!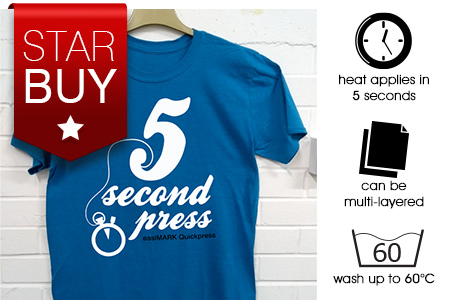 easiMARK Quickpress
This easy weed, quick press garment film is suitable for cotton, polyester and poly/cotton blends and is designed to minimise your production time, helping you to maximise on your profits. easiMARK Quickpress heat applies in only 5 seconds and the carrier can be removed either hot or cold.
Buy easiMARK Quickpress online >
WAS £6.50 per metre
NOW £4.95 PER METRE
3M Banner Hemming Tape 9080 is a high performance double coated acrylic adhesive on a non-woven tissue carrier. It has a very high level of initial tack and good adhesion to a wide variety of surfaces. Roll size: 25mm x 50m.
WAS £18.69 per roll
NOW £11.99 PER ROLL
NEW LOWER PRICE ON ECE104 TAPES FROM 3M AND AVERY
3M ECE104 Tape

This product is for use on rigid sided vehicles. Apply to Heavy Goods Vehicles with a mass over 7.5 tonnes and trailers over 3.5 tonnes.

Was £116.91 - NOW £104
per roll

Avery ECE104 Tape (rigid)
Designed for use on trucks and trailers with rigid sides, Avery ECE104 tape provides superior reflectivity and enhanced nighttime safety.

Was £106.30 - NOW £94
per roll

Avery ECE104 Tape (flexible)
Avery Dennison® Conspicuity Tape meets the stringent requirements of the ECE104, Class C regulation. This product is specially designed for curtain sided vehicles.

Was £106.30 - NOW £104
per roll