All of your vehicle wrap favourites in one place
Having supplied vehicle wrap products, tools and ancillaries for many years now, we've built up a catalogue of quality products, all designed to produce excellent looking customisations with lasting finishes. Whether you're looking for Avery Supreme Wrapping Film, printable vehicle wrap or window tint, you'll find them all here. And for the first time, we've collected all of the tools you'll need to apply stunning vehicle wraps and graphics and created their very own place on our website - so now they're easy to reach, all in one place.
---
---
PREPARATION
Every successful vehicle wrap and livery application starts with great preparation. Here we have the right tools for the best possible preparation.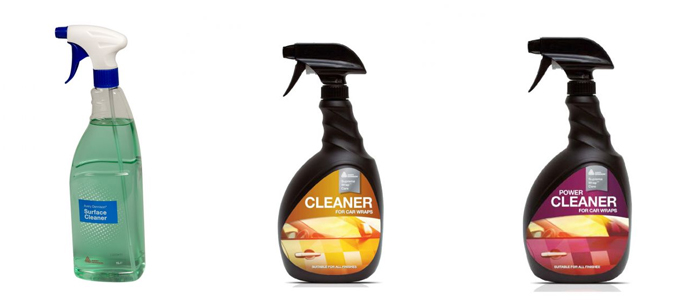 Ensure your vehicle livery application has the best start by preparing the surfaces on the vehicle correctly. Choose from Avery Surface Cleaner, Avery Supreme Wrap Surface Cleaner and Avery Supreme Wrap Power Cleaner.
---
---
APPLICATION
It's important to choose the right application tools for vehicle wrap and livery application - they make such a difference in the finish and also make application as easy and straight forward as possible!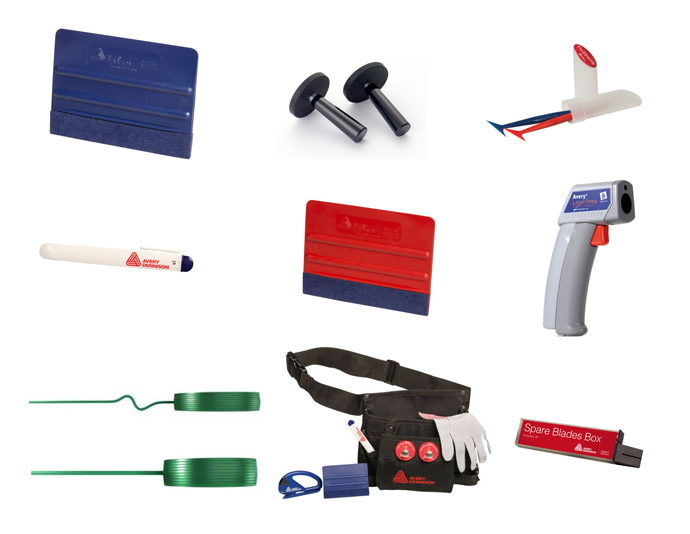 Squeegees
There are special squeegees for vehicle wrap and livery application and these products have been designed specifically for this purpose. The Avery Blue Low Friction Squeegee Pro with Felt is great for applying to large flat or slightly curved surfaces.
The Avery Squeegee Pro Flexible offers greater flexibility, so it's great around wheel arches and car bonnets and bumpers.
Avery Flextreme Micro Squeegees are perfect for all the little nooks and crannies that are involved in vehicle wrapping. Supplied in a pack of 2, the blue micro squeegee is designed for applying to narrow curves and edges and the red micro squeegee is for narrow, concave parts of a vehicle.
---
Trimming
There is a fair amount of trimming involved when wrapping a vehicle or applying vehicle livery! Precision and accuracy are key and with Avery NT Cutter, this is exactly what you get! This lightweight snap off knife clips handily to your pocket and is easily refilled with replacement blades.
If you're looking to create accents and design features for a vehicle wrap application, 3M Knifeless Tape is perfect. Knifeless tape technology is designed to cut graphic film or other materials without a knife, eliminating the risk of nicks and cuts from a blade on the surface of the vehicle. Choose either 3M Knifeless Design Line Tape 3.5mm or 3M Knifeless Pro Tape 6.4mm (perf line).

---
---
More application tools
To complete our selection of applcation tools, we have Speed Mags, the Avery Application Set and the Avery Laser Temperature Gun.
Speed Mags are so useful when applying vehicle graphics. They're great for holding graphics in place to ensure the best positioning of your livery and also when actually applying the vehicle wrap or vinyl. It's like having another pair of hands!
The Avery Application Set is a specially designed toolbelt which holds all of the application tools you may need, keeping them close to hand whenever you need them. The set comes complete with magnets, snitty, plastic knife, squeegee and application glove.
The laser temperature thermometer is used in the inspection of graphic applications where heat is required e.g. post heating vehilce wraps. It is essential for application of flexible cast film into curves and recesses, offering contact-free measurement of surface temperatures.
---
FINISHING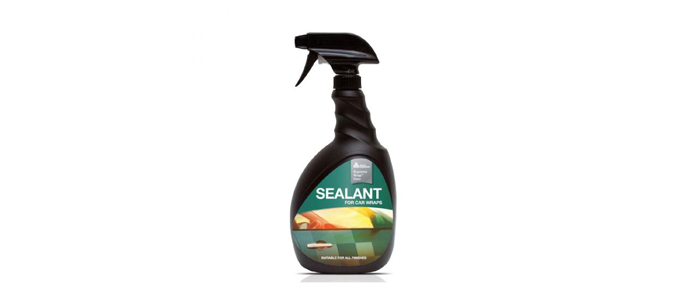 Having put so much time and care into wrapping a vehicle, it's good to know that there is something you can do to help protect the surface and keep it looking stunning for as long as possible.
Avery Supreme Wrap Sealant provides a protective layer on the wrap, making it easier to clean off every day challenges like dirt, bird droppings and tree sap.
---
---